DropTop.™ Wall-mounted, folding desk.
The world's first wall-mounted desk with integrated monitors, designed for working from home. Compatible with any laptop, DropTop.™ is ready to help you unleash your productivity and regain your work/life balance.
Find your balance
We are spending more time than ever working from home and we are all striving to be more productive in our remote working environments. ⁠In a world where your house is both your home and your office it is more essential than ever to find your balance between the two. When working from home treat a workday with the respect it deserves, but also respect your home life and keep the two separate. Use the right tools to help maximise your productivity, to regain your time to create clear boundaries between work and leisure and enjoy a healthy lifestyle.
Introduction
The world's first fully-integrated, plug-and-play, wall-mounted workstation and folding desk, with sustainability at its core.
Explore
Explore the features of DropTop.™.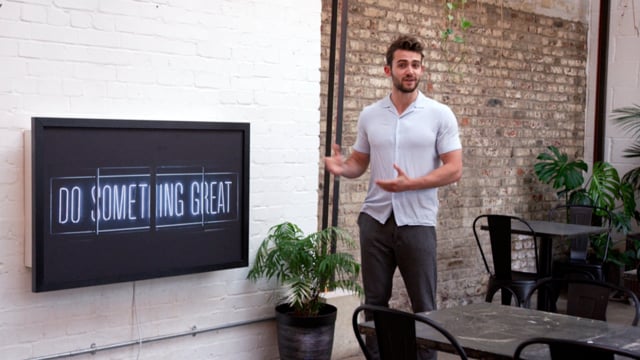 Inside
Packed with features and technology have a look at what makes the DropTop.™ Pro L tick.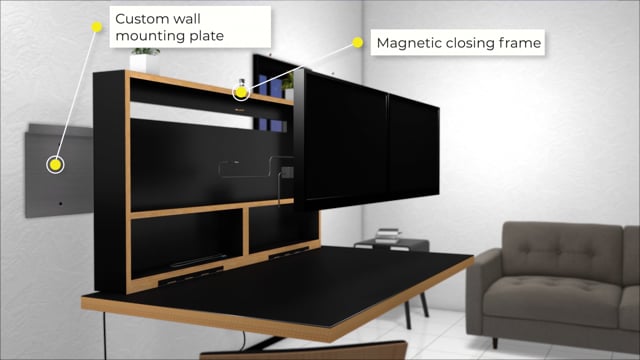 DropTop.™ is practical (ergonomically designed to promote healthy posture), strong (with custom-made hinges), ethical (made with FSC certified birch plywood) and stylish (with customisable colours and finishes – you can even add your own favourite photos or artwork to the face).
Setting up DropTop.™ is simple and it folds away easily and discretely at the end of the day, with a lock for privacy and removable power lead. DropTop.™ is there when you need it, and out of sight when you don't. The perfect space-saving computer desk.
DropTop.™ comes in three size configurations across three range designs.
The DropTop.™ Range
The DropTop.™, DropTop.™ Light and DropTop.™ Pro all feature our unique and original patent-pending design, encompassing a wall-mounted folding desk with customisable artwork fascia and either space for or pre-installed monitors. See below for full details and features of each of these ranges.
Within each range, we offer three sizes, Single, Max and Duo. The Single hosts a widescreen up to 29", perfect for small and tight spaces. The Max offers our biggest single screen option and can house up to a 34" Ultra-Wide screen. The Duo offers our largest display option with two 24" monitors delivering 48″ of screen real estate. Various screen resolutions are available in all sizes.
DropTop.™ Light
For those looking to add their own screens and connectivity there's DropTop™ Light. The same great DropTop.™ concept in a lighter more economic design, flat-packed for home assembly and available in three sizes to host an array of screen sizes. With fully customisable artwork, multiple finishes and frame choices make DropTop.™ Light perfect for any interior on a budget.
DropTop.™
DropTop.™ for everyday home-office use. We've taken care of all the wiring, screen installation and connectivity; simply select your preferred options at checkout and your unit arrives fully assembled ready to plug and play. Available in three size configurations, with fully customisable artwork, multiple veneer finishes and frame choices make DropTop.™ perfect for any interior.
DropTop.™ Pro
Looking for that little bit extra? Our DropTop.™ Pro range has it all. Hosting all of the great features of our everyday DropTop.™ range but designed to withstand the most demanding of projects. Built using construction grade plywood for extra strength and durability, and with screen resolutions up to 5k, the Pro range is perfect for any professional when anything less than the best won't do. With multiple exclusive finish options as well as the fantastic Droptop.™ customisable artwork, veneers and frames our deluxe range has it all.
Slide 2
What our customers are saying...
It really is very strong. I've been using it every day now for around 2 months without any issue whatsoever, and it has vastly improved my new home/work life. It also looks absolutely lovely on my wall when its not in use!
Slide 1
So pleased with my new droptop desk, I have so much more space to work and having 3 screens makes working so much more productive. I have a small room so really great to still be able to use the space when it's closed. Love the picture too!
Slide 3
The DropTop is PERFECTION! We've had it installed in our new garden room which is our home office / gym. I also wanted the option to use the room as an entertaining space so this desk was the perfect solution for us. At the end of the work day we can just pull the desk back up out of the way and have a clear space to work out or entertain. What makes this even better is the fact that it's responsibly made - well done Pith and Stem! A great product that solves a real problem in a beautiful way. Highly recommended!
Slide 4
They have literally thought of everything, I love my Droptop. Its so handy that they come fully assembled and you don't need to spend hours putting it together. it was so simple to install too it only took me half an hour and their plasterboard fixings are incredible. Its a heavy unit but it does not move one bit, I just love it.
Slide 5
Really love our DropTop!
The unit is really sturdy and such great quality! You definitely get great value for money!! It's great to have such a big work space when you need it and when you don't, you just fold it away. Everyone who has visited, has commented on the picture and been amazed at the fact that it is also a desk! The team are also really lovely and responsive.
IS IT STURDY?
It really is. Our Light and Standard ranges have been built with everyday use in mind, and can support in excess of 50kg, whereas DropTop.™ Pro is on another level has been designed to take in excess of 100kg.
CAN I CHANGE THE FACE?
Absolutely. We offer a wide range of stylish designs for the face from photos to abstract art, and you can send us any high definition image for printing. These are easily interchangeable thereafter to suit any decor changes. You will be able to buy faces from our shop in the near future too.
IS IT COMPATIBLE WITH MY LAPTOP?
DropTop.™ works with all laptops and Macs.
Simply connect your device through the USB, USB-C or HDMI* cable found inside the unit on and that's it – enjoy being productive again!
If you are lucky enough to have a newer laptop with USB-C charging compatibility you will love the freedom and likewise the elegance of our single cable connection.
If your laptop does not have a USB-C connection, go for the standard USB option and worry not, we have thought of everything. The standard USB unit comes equipped with a second universal power cable, taking care of your laptop's charging needs accordingly.
*Select your connectivity option at checkout.
DO YOU OFFER A WARRANTY?
Yes, two years. We are proud of the high quality of our manufacturing and furthermore only want to sell you one DropTop.™
They are designed for strength and built to last. As you may have seen on our adverts, we have really put them to the test.
IS IT SUSTAINABLE?
For every DropTop.™ Standard or Pro unit we sell, we plant ten trees through Tree Nation, (and five trees for any Light range). Tree Nation are a global non-profit focused on afforestation, agroforestry and reforestation. It really is that simple. One purchase results in ten trees planted sustainably on projects around the world. You can find more about Tree Nation on their website. As with our entire range of sustainable furniture, we care about the materials we use.
IS INSTALLATION SIMPLE?
We have designed DropTop.™ to be easy to install and equally simple to take off and cover the holes if you do not own the house you live in.
There is a steel bracket that needs to be secured to the wall with screws or the plasterboard fixings provided and DropTop.™ slides securely onto the bracket. It's that simple!
You do not need a technician to install a DropTop.™ In fact if you are confident to hang a mirror straight, then you will do just fine with a DropTop.™
DO I NEED MY OWN SCREENS?
You do for the Light range. The Light range has been designed to allow you to fit your existing screen into a DropTop.™ unit.
DropTop.™ and DropTop.™ Pro is a plug and play solution therefore you do not need to buy anything else. It comes fully assembled, equipped with high quality Full HD monitors, with narrow-border displays, resulting in a seamless experience. They are (literally) easy-on-the-eye, with Flicker-Free technology and LowBlue Mode, and have IPS LED wideview technology that makes them ideal for professional applications demanding colour accuracy and consistent brightness at all times.